Role-playing games
Here you can find role-playing games stuff. New stuff is added when I got the time.
Her kan du finde rollespilsting. Nye ting bliver tilføjet, når jeg har tid.

Dark Heresy - 40k rpg
Combat Actions sheet - A4 (Pdf 140 kb)

It can be difficult to know what options you have in combat for new players who doesn't know the system. That's why I have made this list of possible actions for persons and vehicles. Vehicle actions are taken from Dark Heresy Apocrypha, which you can find on the Dark Reign site in the download section.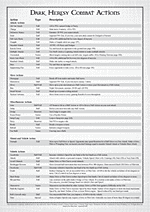 The design based on the GM screen. I had to use a combination of the fonts Dark11 and Celtic Garamond the 2nd for the headline to simulate the REQUIEM-Inquisitor font. I think the Inquisitor font is cool, but it's part of the graphic design for the game and not for sale.
For spillere, som ikke kender systemet, kan det være svært at vide, hvilke muligheder man har i kamp. Derfor har jeg lavet denne oversigt over mulige handlinger for personer og køretøjer. Køretøjs handlingerne har jeg taget fra Dark Heresy Apocrypha, som du kan finde på Dark Reign sitet under downloads. Jeg har selv printet en til hver af mine spillere.
Designet er baseret på GM skærmen. Jeg blev nød til at bruge en kombination af skrifterne Dark11 og Celtic Garamond the 2nd til overskriften for at efterligne REQUIEM-Inquisitor skriften. Jeg synes, at Inquisitor skriften er fed, men den er en del af det grafiske design og er ikke til salg.
Combat Actions and more - A4 (Pdf 180 kb) Version 2.0
This is sheet has combat actions on one page, and weapon ranges, Carrying limits, Size modifiers and Fate Point use on the other page. It's supposed to be a sheet that the players and the Game Master can use during play. I'm not sure that I put the right things on it, so I might change the sheet.
Dette ark har combat actions på den ene side, og weapon ranges, Carrying limits, Size modifiers og Fate Point brug på den anden side. Det var meningen, at det skulle være et ark som spillerne og Game Masteren kan bruge, mens de spiller. I er ikke helt sikker på, at de rigtige ting er kommet på, så det kan være at jeg ændre arket.
Index Terribilis - A4 (single page pdf 6.3 Mb)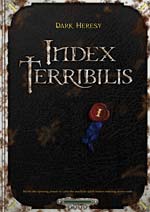 Do you think the Dark Heresy Rulebook is a bit unhandy, when you need to use a table? Then you are going to like Index Terribilis, which is full of tables. I have put a lot of work into this supplement. Especially the cover took time, but it just had to look right. I hope you appreciate the effort!
This is the single page version in colour for normal print.
Synes du at Dark Hersy regelbogen er lidt upraktisk, når du har behov for at bruge en tabel? Så vil du kunne lide Index Terribilis, som er ful af tabeller. Jeg har lagt meget arbejde i dette supplement. Især coveret tog tid, men det skulle bare have det rigtige udseende. Jeg håber, at du værdsætter arbejdsindsatsen!
Dette er enkeltside versionen i farve til normalt print.
Index Terribilis - A3 (Booklet pdf 6.4 Mb)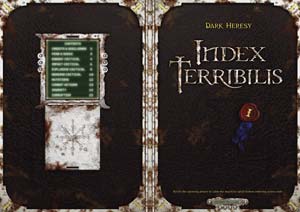 T

his is the booklet version in colour with crop marks.
Dette er hæfteversionen i farver med skæremærker.
Index Terribilis B&W- A4 (single page pdf 4.2 Mb)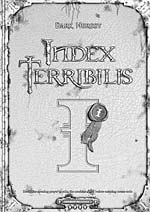 I wasn't going to do a black and white version, but I didn't like the idea of somebody else fiddling with the Index Terribilis to save ink when printing. The things I make are of a high standard, because I have a professional pride.
Jeg havde ikke tænkt mig, at lave en sort/hvid version, men jeg kunne ikke lide ideen om, at andre pillede ved Index Terribilis for at spare blæk ved udskrivning. De ting jeg laver har en høj standard, fordi jeg har en professionel stolthed.
Index Terribilis B&W - A3 (Booklet pdf 3.6 Mb)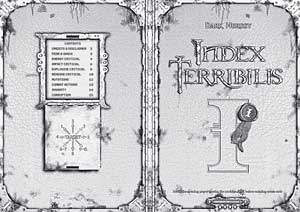 T

his is the booklet version in black and white with crop marks.
Dette er hæfteversionen i sort/hvid med skæremærker.
Data Slate - A4 (png 720 kb)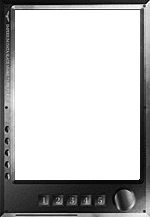 Would you like to put your maps and other handouts in a data slate? Well, now you can! I have made a png file, which will keep the transparency in the screen area so you can place something on the screen. I myself have the luxury to use the original Photoshop file. :-)
Vil du gerne sætte dine kort og andre ting ind i en "data slate"? Jamen, det kan du nu! Jeg har lavet en png fil, som beholder det gennemsigtige skærmområde, så du kan placere noget på skærmen. Jeg har selv fornøjelsen af at bruge den originale Photoshop fil. :-)
Data Slate with Screen - A4 (png 1.1 mb)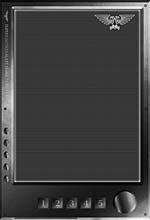 Here is a data slate with background.
Her er en "data slate" med baggrund.
Map of a section of the Gorgonid Mines (jpg 1.2 Mb)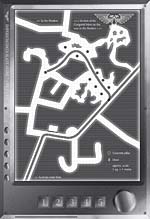 This is a map of a section of the Gorgonid Mines on the way to Shattered Hope. It was my plan to have the players chase a crazy guardsman for a time before reaching the Shattered Hope area, but never got to use it.
Dette er et kort over et område af Gorgoind minen på vejen til Shattered Hope. Det var min plan at spillerne skulle jage en gal guardsman før de nåede frem til Shattered Hope området, men jeg fik det aldrig brugt.
Map of the Coscarla Divison - A3 (jpg 2.5 mb)
This is a hand out map of the Coscarla Division, a sub-district of the Hive Sibellus on the planet Scintilla. The map is from the scenario The Edge of Darkness. I have left out the different locations, so you can use the map for some other scenario.
Dette er et hand out kort af Coscarla Divisionen, et underdistrikt i Hive Sibellus på planeten Scintilla. Kortet er fra scenariet The Edge of Darkness. Jeg har udeladt de forskellige steder af interesse, så du kan bruge kortet til et andet scenarie.
GM and Handout Maps for Gateway 17 - A4 (pdf and jpg 5 Mb)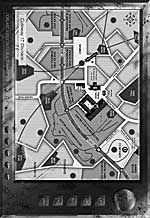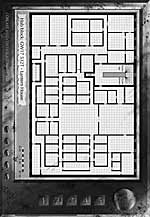 Th

is is a Game Master download that contains two GM maps and two handout maps for the adventure Gateway 17, which you can find on darkreign40k.com. It follows up on The Edge of Darkness. I will make the missing maps, if I get the time.
Dette er en Game Master download som indeholder to GM kort og to handout kort til eventyret Gateway 17, som du kan finde på darkreign40k.com. Det følger op på The Edge of Darkness. Jeg laver de manglede kort, hvis jeg får tid til det på et tidspunkt.
Seal 90 x 200 mm (png 1.9 mb)
Here is the seal used on the frontpage of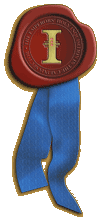 the Index Terribilis.

Her er seglet, som er brugt på forsiden af Index Terribilis.

Mid Evil
Rules (Pdf 130 Kb)

My friends from The Sonic Dwarfs made this game with inspiration from our favourite games like Call of Cthulhu, AD&D and MERP. In the Character Sheet section you will find a sheet for the game.
Mine venner fra gruppen The Sonic Dwarfs lavede dette spil med inspiration for vores favorit spil som f.eks. Call of Cthulhu , AD&D og MERP. Du kan finde karakter ark til spillet i Character Sheet sektionen. Reglerne er på engelsk.
Equipment list (Pdf 70 Kb)

Equipment list for the Mid Evil game.
Indkøbsliste til Mid Evil spillet.

Star Frontiers
Zebulons Guide Skill Table(Pdf 70 Kb)

Good old Star Frontiers from TSR made in 1982. The games was updated in 1985 with Zebulons Guide. In order to use Zebulons Guide you needed at table, and I made my own i 1999. I guess colour printers wasn't all that common at the time.
Gode gamle Star Frontiers fra 1982 lavet af TSR. Spillet blev opdateret i 1958 med Zebulons Guide. For at spille Zebulons Guide skulle man bruge en tabel. Jeg lavede min egen tabel i 1999, hvor farveprintere ikke var så normale.

Warhammer RPG 1 edition
The Enemy Within Campaign historie (Pdf 70 Kb)

This history is in Danish. Sorry!
Dette er en pdf med min rollespilsgruppes historie af deres oplevelser i Enemy Within og Bögenhafen tilbage fra 1999, hvor jeg første gang var Game Master (GM) i denne kampagne.
Nydelsernes By - Scenarie (Pdf 810 Kb)

This Adventure is in Danish. Sorry! But there are some maps that might be useful.
Spillerne hyres til at myrde en Slaanish tilbedende købmand i Kemperbad, men er grundlaget til mordet godt nok, eller bliver spillerne udnyttet?
Jeg skrev dette scenarie, fordi en af mine spillere ville være Assassin. Det var meningen, at det bare skulle tage et par timer eller 3, men det blev til meget mere begge gange jeg har spillet det. Muligvis fordi spillerne indbyrdes har diskuteret meget om, hvad der var rigtigt at gøre, hvilket har været underholdende at overvære som GM.