Miniatures
Mon, Jul 28, 2008Brian came by from Sweden with at mounted rider that he wanted to paint. We had a great day painting miniatures, eating candy, listening to the Presidents of USA, watching EM in football while eating. It got me painting again and now Anne's Vampire team is ready to play. The next project is painting the last 2 vampire cheerleaders.
Brian kom forbi fra Malmø med en rytter til hest, som han ville male. Vi havde en fantatisk dag med figurmaling og slik, mens vi lyttede til the Presidents of USA, og vi fik se EM i fodbold, mens vi spiste. Det fik mig til at male igen, og nu er Annes vampyr hold klar til spille. Næste projekt er at male de sidste 2 vampyr cheerleaders.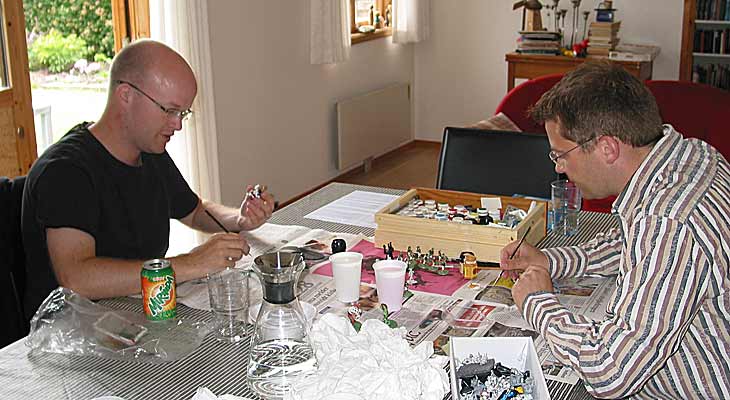 Blood Bowl
Anne's Vampire Team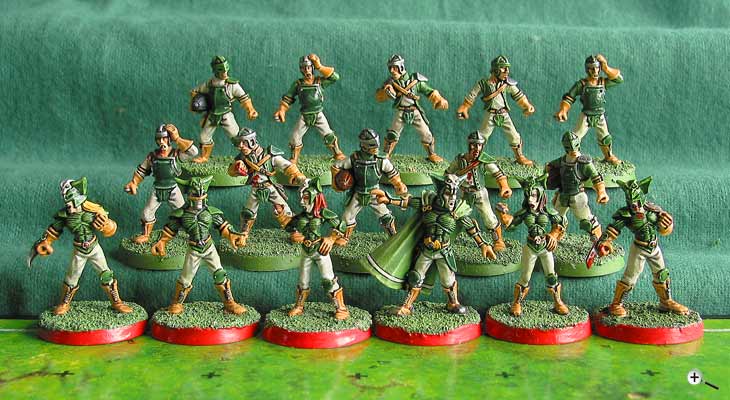 The lord commanded all his players to attend the photo session, but only 10 of 30 thralls survived the journey to the Blood Bowl field because the vampire teammates got hungry on the way. They demanded thralls to eat or they would leave the team.
I have painted the base of the vampires red to make them stand out from the thralls.
Lorden kommanderede alle sine spiller til at møde op til foto sessionen, men kun 10 ud af 30 slaver overlevede turen til Blood Bowl banen fordi vampyr spillerne blev sultne på vejen. De forlangte at få lov til at spise slaver ellers ville de forlade holdet.
Jeg har malet basen på vampyrerne rød så de skiller sig ud fra slaverne.
The Thralls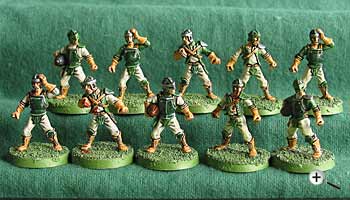 We must hope that the vampyre team mates are not to hungry during the next games sinces the thralls can't be replaced any time soon. The surviving thralls hope to win the tournament sinces lossing isn't an option if you want to stay alive.
I like the bloody details on 3 of the thralls in the photo on the right. It makes them stand out from their teammates. The left thrall is dizzy after being bitten by a hungry vampire, which the two others have beaten of.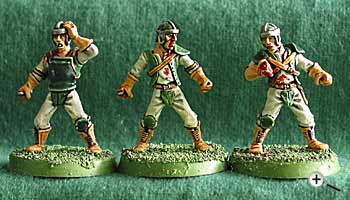 Vi må håbe at vampyrerne på holdet ikke er sultne i de næste kampe eftersom at slaverne ikke kan blive erstattet foreløbig. De overlevende slaver håber at vinde turneringen, da nederlag ikke er en mulighed, hvis man ønsker at leve.
Jeg kan godt lide de blodige detaljer på de 3 slaver på det højre foto. De får dem til at skille sig ud fra resten af slaverne. Den venstre slave er svimmel efter at være blevet bidt af en sulten vampyr, som de to andre har kæmpet imod.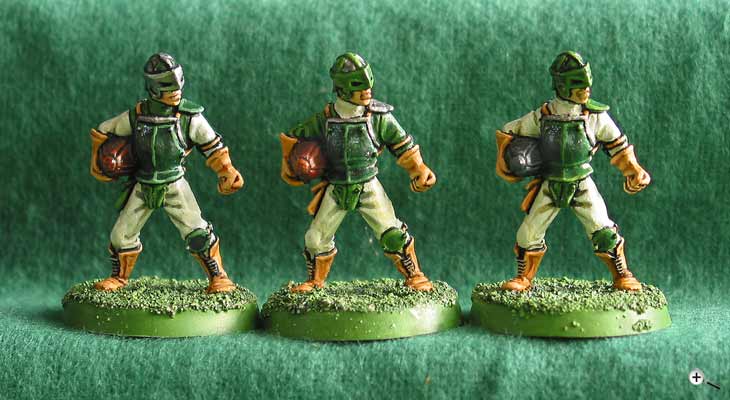 I have painted these identical miniatures in the same colours scheme but have painted the clothes, the ball and the helmet differently so you can recognise the individual miniatures. It's important in a Blood Bowl match to know what abilities each player has.
Jeg har malet disse ens figurer i de samme farve nuancer, men har malet tøjet, bolden og hjelmen på forskellig måder, så man kan genkende de enkelte figurer. Det er vigtigt i en Blood Bowl kamp, at vide hvilke egenskaber den enkelte spiller har.
The unforgiving vampire masters
The vampire Lord and his lover are among my favourite miniatures. They are fairy simple but have enough details to stand out. I think cloak turned out very nice with a green colour that matches the rest and then a white line to emphasize the cloak. The red hair works nicely as a contrast to the green and white colours on the female vampire.
Vampyr lorden og hans elskerinde er blandt mine favorit figurer. De er forholdsvis enkelte, men har detaljer nok til at skille sig lidt ud. Jeg synes kappen er blevet rigtig god med en grøn farve, der passer til resten, og så en hvid streg der fremhæver kappen. Det røde hår virker også rigtig god som kontrast til de grønne og hvide farver på den kvindelige vampyr.
Vampire team extras
I have painted one of three vampire cheerleaders also kept in the team colours green and white. It's not an easy miniature to paint with all the little details such as the hair, the twisted clothes and snakes. Hm... I'm not sure if the grey snake should have been another colour. Oh well I can test that on the last two miniatures.
Jeg har malet den ene af tre vampyr cheerleaders som også holder sig til hold farverne hvid og grøn. Det er ikke en let figur at male med alle de små detaljer såsom håret, det snoede tøj og slanger. Hm... jeg er lidt usikker på om den grå slange skulle have haft en anden farve. Nå, men det kan jeg jo prøve af på de to sidste figurer.
miniature © Games Workshop 2003. All rights reserved. Used without permission - model painted by Bo Hasle Buur